Bartec USA announces partnership with TCS!
October 1, 2018
Bartec USA, the North American leader in TPMS Diagnostic tools and solutions, announces their partnership with TCS, an ARI company. According to Scot Holloway, Bartec CEO: "We are excited to announce a new partnership integration to help tire and automotive dealers use the Tech200Pro tool to capture and send over tread depth measurements, and tire pressure readings to the TCS Digital Inspections App as well as the Tireworks HD software interface."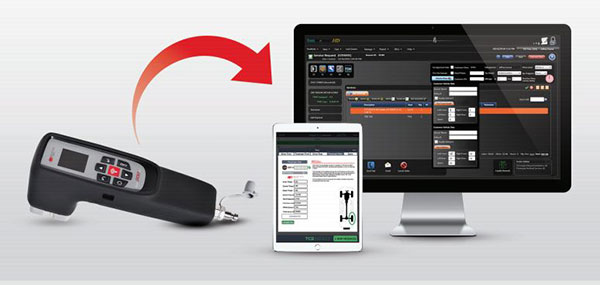 This is the first time Bartec is facilitating an integration from the Tech200Pro with a Software provider. TCS (booth 42175) and Bartec (booth 40039) will be showcasing this integration at each of their booths during SEMA week!
Both companies are committed to providing the very best information to the Tire Shop's front counter associates who are tasked with informing and explaining the complex nature of today's tire sale. Consumers can make better and more informed decisions when they know precisely the condition of their tires, whether or not there is a tire recall, remaining tread life, status of the TPMS, and an entire list of inspection points the TCS Digital Inspection application offers. The pairing of TCS Software and the Tech200Pro provides front counter associates the necessary information to be successful.
About TCS: The TCS suite of Business Management Software solutions empower businesses with the tools, resources and, most importantly, the support needed to maximize efficiency and profitability. By providing an unmatched user experience, a flexible framework, and robust tools for operational consistency, TCS helps dealers of all sizes to increase revenue, reduce expenses, and better serve their customers. Whether you're a small family business, a growing multi-location dealer or a Top 100 Independent Tire Retailer, TCS can help you! For more information on TCS, visit http://www.tcstire.com
Keep track of all of the events surrounding this new relationship by following each company on their various social media outlets. TCS can be found at:
Follow @TCSTirePower on Twitter: http://www.twitter.com/TCSTirePower
Become a fan of ARI on Facebook: https://www.facebook.com/TireCompanySolutions/
Join us on G+: https://plus.google.com/+ARINetworkServices
LinkedIn: http://www.linkedin.com/company/tcs---tire-company-solutions/
Bartec can be found at:
Follow @Bartecusa on Twitter: http://www.twitter.com/Bartecusa
Like our Facebook at: https://www.facebook.com/wearetpms
Linkedin: https://www.linkedin.com/company/bartec-usa/
Other Articles
September 20, 2023
September 15, 2023
September 4, 2023
August 1, 2023
July 24, 2023
July 18, 2023
July 17, 2023
July 1, 2023
June 27, 2023
June 6, 2023