Software Version
The best way to Own the Wheel Well is to keep your TPMS Tool current and up to date. No one delivers more tool updates than Bartec TPMS!
Changing vehicles, changing sensors, and changing OBDII protocols make keeping your tool current a critical part of your businesses standard operating procedure.
September 2023 Software Version Release R66.0/R6.0 Now Available
Tool Software Release R66.0/R6.0 adds loads of model year 2023 coverage, more OBD-II coverage and increases placard programming capacity. Bartec TPMS is consistently making our tools better and more valuable with each software release.
NOTE: Bartec TPMS remains committed to maintaining sensor coverage on major aftermarket sensors.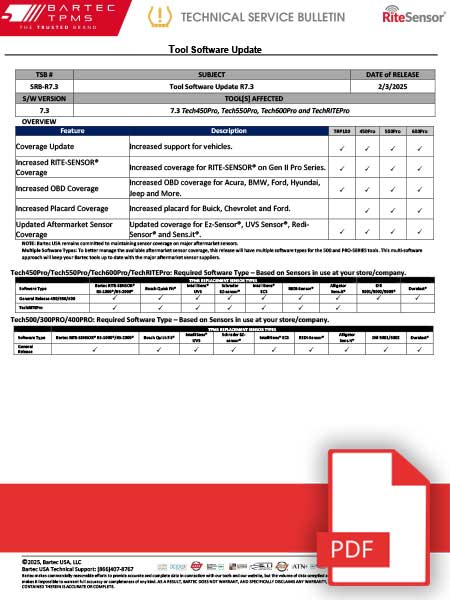 ---
Software Versions and Attributes
Software Release Version
Date Launched
Tools Covered
Key Features
R66.0/R6.0
September 2023
66.0Tech300Pro/Pro C, Tech400Pro and Tech500 / 6.0 Tech450Pro, Tech550Pro, Tech600Pro and TechRITEPro

Added Support for Sensor and OBD vehicle coverage
Added coverage for RS-2000®
Added preventative measures to ensure correct sensor usage
Ability to use B-9075 as a B-9100
Added Placard for Chevrolet, Ford, Ram and More
Updated coverage for Ez Sensor®, UVS Sensor® and Redi Sensor®

R65.2/R5.2
July 2023
65.2 Tech500, Tech300Pro/Pro C, and Tech400Pro / 5.2 Tech450Pro, Tech550Pro, Tech600Pro and TechRITEPro

Added Support for Sensor and OBD vehicle coverage
Tool displays when the vehicle battery is too low
Added OBD Support on the 2002-2006 Lexus SC430
Updated coverage to four BMW Models
Corrected OBD Coverage for Dodge, Kia, Land Rover and More
Updated coverage for Ez Sensor®, UVS Sensor® and Redi Sensor®

R65.1/R5.1
March 2023
Tech500, Tech300PRO, Tech300PROC, Tech400PRO, TechRITEPro, Tech450, Tech550 and 600PRO

RITE-SENSOR® Coverage added to Audi, GM and More
Added Support for Model Year 2023 Vehicles
Bartec has added an improved TPMS Audit View to show more data on initial reads
Added Support for Canoo Vehicles
Added Support for the Ford F-Series Trailer
Added TPMS Support on the 2002-2006 Lexus SC430
Added Placard Support for Jeep and Ram
Added Placard Support for the Escape, E-Series and F-Series
Added Placard Support for the Silverado and Sierra
Now in Data view the Hex and Decimal TPMS IDs can be viewed together
Added OBD COMMs support of Ford, Lexus and More
Updated coverage for Ez Sensor®, UVS Sensor® and Redi Sensor®

R65.0/R5.0
December 2022
65.0 Tech500, Tech300Pro/Pro C, and Tech400Pro / 5.0 Tech450Pro, Tech550Pro, Tech600Pro and TechRITEPro

Bluetooth® technology is now being introduced to new vehicles. As a response to vehicle development Bartec has introduced the RS-3000® for Bluetooth® TPMS
Increased MMY 2022 Coverage
RITE-SENSOR® Coverage added to Audi, GM and More
Added RS-3000® Coverage for Bluetooth Vehicle
Added Coverage for Bluetooth TPMS Vehicles.

R64.0/R4.0
August 2022
64.0 Tech500, Tech300Pro/Pro C, and Tech400Pro / 4.0 Tech450Pro, Tech550Pro, Tech600Pro and TechRITEPro

Added support for Model Year 2022 Vehicles
RITE-SENSOR® Coverage added to Hyundai and Kia Vehicles
Tool will automatically clear enough storage for software updates
Updated coverage for Ez Sensor and UVS Sensor

63.3/3.3
March 2022
Tech500, Tech300Pro/Pro C, and Tech400Pro / 3.3 Tech450Pro, Tech600Pro and TechRITEPro

Added support for Model Year 2022 Vehicles
RITE-SENSOR® Coverage added to Hyundai and Kia Vehicles
Tool will automatically clear enough storage for software updates
Updated coverage for Ez Sensor and UVS Sensor

63.2/3.2
November 2021
Tech400SD, Tech500, Tech300Pro/Pro C, and Tech400Pro / 3.2 Tech450Pro, Tech600Pro and TechRITEPro

Added support for Model Year 2022 Vehicles
RITE-SENSOR® Coverage added to Toyota and Dodge vehicles
OBD Communications added for BMW X3
Sensor Correction on 2021-2022 Buick Envision
Updated coverage for Alligator, Schrader (Sensata), Dill and UVS Sensors

63.1/3.1
September 2021
Tech400SD, Tech500, Tech300PRO, Tech300PROC, Tech400PRO and Tech450/600PRO/TechRITEPro

Model Year 2022 Coverage Update
Extended Toyota DTC Reads
Copy IDs from Stored Data
REDI-SENSOR unlock for V6 added; updated menu options
Removed Steelman Select Sensor

63.0/2.2
March 2021
Tech400SD, Tech500, Tech300PRO, Tech300PROC, and Tech400PRO & Tech450PRO and Tech600PRO

Model Year 2021 Coverage Update
Added RITE-SENSOR® Coverage
Added Nissan OBD COMMS
Added Land Rover OBD COMMS
Added Ford OBD COMMS
Improved Mitsubishi Relearn Process
Corrected GM Coverage
Extended Programable Sensor Coverage
Removed John Dow DVT Sensor
Removed Revolution Supply PDQ Sensor

62.3
November 2020
Tech400SD, Tech500, Tech300PRO, Tech300PROC, and Tech400PRO

Model Year 2021 Coverage Update
Ford/Lincoln Placard Coverage
Ford OBD Coverage
GM Coverage
Mercedes OBD Coverage
Added HUF dual frequency sensor

62.2
July 2020
Tech400SD, Tech500, Tech300PRO, Tech300PROC, and Tech400PRO
62.0
April 2020
Tech400SD, Tech500, Tech300PRO, Tech300PROC, and Tech400PRO

RITE-SENSOR® Nissan TFA Coverage
Updated LF Management
Tool Battery Management
Mac Address
Redi Sensor V5
Updated COMMS Coverage
Updated Sensor Coverage

61.0
January 2020
Tech400SD, Tech500, Tech300PRO, Tech300PROC, and Tech400PRO

RiteSync®
RiteSensor® Diagnostics
RiteSensor® Coverage
RITE Identifier
Tool Battery Management

60.1
October 2019
Tech400SD, Tech500, Tech300PRO, Tech300PROC, and Tech400PRO
60.0
September 2019
Tech400SD, Tech500, Tech300PRO, Tech300PROC, and Tech400PRO

Bartec RiteSensor®
VINdicate Coverage
MY Update

59.0
February 2019
Tech400SD, Tech500, Tech300PRO, Tech300PROC, and Tech400PRO

OBD Relearn Coverage
Placard Coverage
VINdicate Coverage
Dill 5002

58.2
February 2019
Tech400SD, Tech500, Tech300PRO, Tech300PROC, and Tech400PRO

Hyundai COMMS
MMY Coverage
Revolution PDQ WAL
Huf Coverage
JohnDow Coverage

58.1
November 2018
Tech400SD, Tech500, Tech300PRO, Tech300PROC, and Tech400PRO

Subaru COMMS
Toyota COMMS

58.0
October 2018
Tech400SD, Tech500, Tech300PRO, Tech300PROC, and Tech400PRO

HMI 3.0
VINdicate
Dually Supported
Improved tool speed
Placard Coverage

57.1
January 2018
Tech400SD, Tech500, Tech300PRO, Tech300PROC, and Tech400PRO

Added Placard Coverage
Coverage Updates for MY2018
COMMS updates for Toyota, Kia, Mitsubishi
Added new sensor coverage 433 Ford PAL

57.0
November 2017
Tech400Plus, Tech400SD, Tech500, PRO SERIES

Added Placard Coverage
AMP QWIK sensor programming
MY2018
REDI sensor 7003A unlock
OBD COMMS Mercedes GLA
Updated coverage Huf
Updated coverage EZ-sensor

56.2
June 2017
Tech400Plus, Tech400SD, Tech500, PRO SERIES

Last update for WR450 400Plus tools
Added Placard Coverage
OBD Relearn Mitsubishi Mirage
OBD Relearn Jaguar
OBD Relearn Land Rover
OBD Relearn Infiniti
Relearn support Chevrolet Bolt
Clear DTC added to Chrysler OBD Relearn
Dill Trailer Kit sensor supported added
John Dow DVT Dynamic Pro-Select Added

56.1
May 2017
Tech400Plus, Tech400SD, Tech500, PRO SERIES

Update Dill OE replacement part numbers
Update Dill REDI sensor replacement part number

56.0
April 2017
Tech400Plus, Tech400SD, Tech500, PRO SERIES

Placard Coverage
OBD Relearn Jeep
OBD Relearn Kia
EZ-sensor coverage
Sens-it coverage
2017 Subaru COMMS

55.1
March 2017
Tech400SD, Tech500, PRO SERIES

Improved Huf Programming on 433MHz (Bug Fix)

55.0
February 2017
Tech400SD, Tech400Plus, Tech500, Tech300PRO, Tech300PROC, and Tech400PRO

Last update to Tech400
Improved Placard Change coverage
MY2017 Coverage
OBD COMMS Hyundai, Nissan, Kia
Improved BT menu on tools
EZ-sensor coverage
JS Steelman coverage
Bonus OBDII coverage

54.2
September 2016
Tech400, Tech400Plus, Tech400SD, Tech500, PRO SERIES

Ford Placard
DVT Correction

54.1
July 2016
Tech400, Tech400Plus, Tech400SD, Tech500, PRO SERIES

Improved UHF
Huf coverage
COMMS update
EZ Sensor Coverage

54.0
June 2016
Tech400, Tech400Plus, Tech400SD, Tech500, PRO SERIES

Mode Changing: TRW
Mode Changing: Conti
Haptic Feedback
EZ sensor Coverage
Wi-Fi logs
Coverage
Battery Icon
Improved Sensor coverage (dill,huf)

53.6
March 2016
Tech400, Tech400Plus, Tech400SD, Tech500, PRO SERIES
53.2
September 2015
Tech400, Tech400Plus, Tech400SD, Tech500, PRO SERIES

More Placard
More Ford TBYT
MY16
Steelman Select Sensor Programming
Aveo OBD Assisted Relearn

53.1
July 2015
Tech400, Tech400Plus, Tech400SD, Tech500, PRO SERIES

Schrader 33500
Huf 3000 Intellisens
1st PRO SERIES Release

53.0
June 2015
Tech400, Tech400Plus, Tech400SD, Tech500

Wi-Fi T500
Placard Change
Bluetooth Printer
Ford TBYT
MY-15/16
Huf 400Plus

52.2
February 2015
Tech500

Bug Fix
REDI Sensor Decode
French Language Issues

52.1
February 2015
Tech400, Tech400Plus, Tech400SD

Bug Fix
Toyota LF Activation Issues
Redi Sensor Decode

52.0
February 2014
Tech400, Tech400Plus, Tech400SD, Tech500

Suzuki OBDII Assisted
Contact Point Programmable sensors
TIA Inside