Bartec USA's Rite-Sensor® Wins the Prestigious Top 20 award for 2020!
September 3, 2020
Bartec USA, the North American leader in TPMS Diagnostic tools and solutions, announces that Rite-Sensor® has won Motor Magazine's Top 20 Award for 2020! Click on this link to see the Motor Magazine page. The RITE-SENSOR® was created from the service process perspective. Bartec, being the global leader in TPMS Service tools, understands what service technicians face when replacing TPMS Sensors, particularly when using programmable sensors.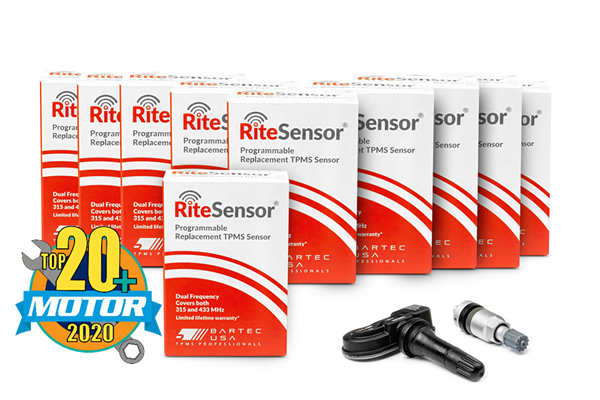 We often hear on our TPMS Tech Line that the tech was unaware that the sensor required programming, or that they have forgotten to program the sensor, or they programmed it incorrectly. Any of these scenarios can be costly and lead to aggravated and unhappy customers. RITE-SYNC® eliminates all of that. Bartec combined the TPMS Relearn process [something required every time a sensor is replaced] and the sensor programming process! RITE-SYNC® is a tool-controlled process that makes replacing sensors easy, fast, and profitable! You can watch a video on Rite-Sync® at this linkor on Bartec's YouTube channel TPMSTOOL. As the original OE TPMS Supplier, Bartec continues to bring our extensive experience to bear on the automotive aftermarket with more first market innovation. Since 2004, Bartec USA has been North America's TPMS Professionals.
Other Articles
December 6, 2023
December 4, 2023
November 1, 2023
November 1, 2023
October 31, 2023
October 31, 2023
October 27, 2023
October 25, 2023
October 23, 2023
October 5, 2023