Placard Changing - You Can you do it!
March 1, 2019
A while back, legislation known as the FAST (Fixing America's Surface Transportation) ACT was signed into law. Buried in the litany of provisions covered by this Transportation Bill, which range from point of sale tire registration to the funding of infrastructure improvement, was a few paragraphs regarding Tire Pressure Monitoring Systems (TPMS) While enforcement of these provisions are a ways off, and no clear indication of how they will be applied, we at Bartec are happy with the context and direction!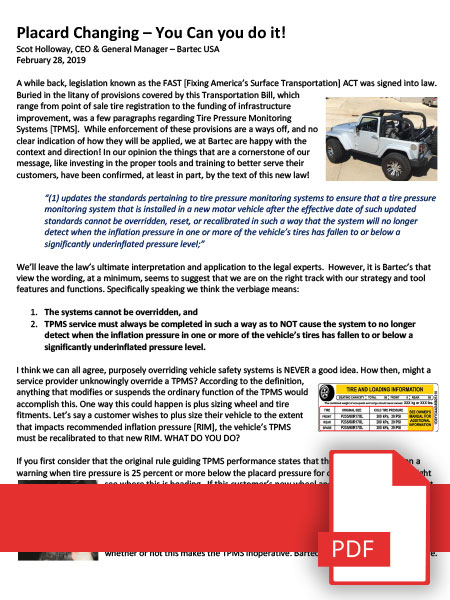 In our opinion the things that are a cornerstone of our message, like investing in the proper tools and training to better serve their customers, have been confirmed, at least in part, by the text of this new law!
We'll leave the law's ultimate interpretation and application to the legal experts. However, it is Bartec's that view the wording, at a minimum, seems to suggest that we are on the right track with our strategy and tool features and functions. Specifically speaking we think the verbiage means:
The systems cannot be overridden, and
TPMS service must always be completed in such a way as to NOT cause the system to no longer detect when the inflation pressure in one or more of the vehicle's tires has fallen to or below a significantly under inflated pressure level.
Other Articles
September 20, 2023
September 15, 2023
September 4, 2023
August 1, 2023
July 24, 2023
July 18, 2023
July 17, 2023
July 1, 2023
June 27, 2023
June 6, 2023