TPMS Service - Knowing Your Options Is the Key to Great Service
March 21, 2022
Scot Holloway, CEO - Bartec USA
By now, we all know that all vehicles sold in the United States have some form of a Tire Pressure Monitoring System [TPMS] included as standard safety equipment. While a small percentage are indirect systems, the overwhelming majority of vehicles with TPMS are of the DIRECT variety. That is, there is a sensor fitted inside the wheel/tire assembly, an antenna [or antennas] on the vehicle and a receiver mounted. Direct TPMS has been available on passenger cars and light trucks for a long time, but TPMS really became part of the standard equipment after the TREAD act of 2000 was passed. By 2008, all passenger cars and light trucks had to have TPMS and today there are hundreds of millions of vehicles on the road with this safety system. If you're go to 'Own the Wheel Well,' you should be aware of the options that are available. Those options include TPMS tools and replacement sensors.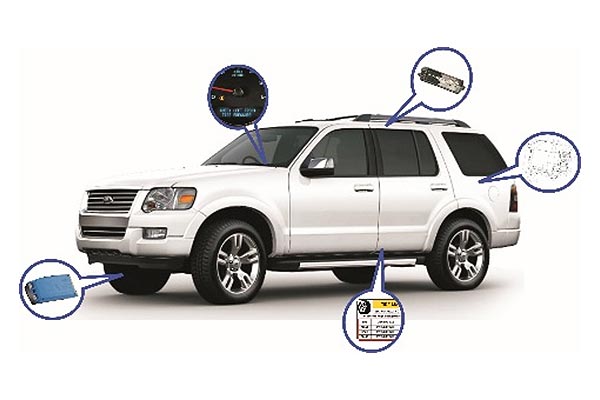 TPMS Tools

Offering excellent TPMS service begins and ends with the TPMS Tool. The type of TPMS tool needed depends on the level of tire service provided. Basic tire service is simply checking air pressure as part of a multi-point inspection program. In this instance, a basic sensor activation testing tool is required. The basic TPMS tester (or front counter inspection tool) offers a few advantages. First, it is fast and the 'touch-less' way to check tire pressure [assuming the vehicle has TPMS of course]. Secondly and more importantly, the TPMS tester lets the technician know whether the TPMS Sensor is functioning or not. This is an often neglected, but hugely important step in limiting liability!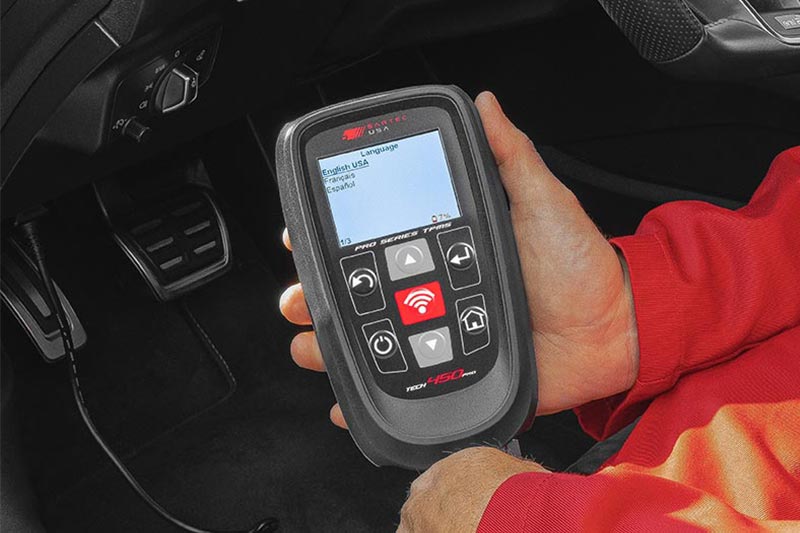 What should be a concern for every service provider is that the TPMS sensors can stop working for various reasons at any time. Obviously the most common fault is the battery going flat. However, it can sometimes take more than a week or more than a hundred miles before the TPMS MIL flashes on the instrument panel alerting the consumer. The typical scenario is that a consumer arrives in the shop with a previously failed TPMS sensor, and it's not discovered by the technician. The shop performs a basic tire rotation. A few days later the TPMS MIL starts flashing and the consumer is back with a complaint! A simple 'Test Before You Touch' TPMS test prevents the shop from owning a bad sensor, and better yet, gives them the opportunity to sell them a replacement if capable.
If a shop is doing more advanced tire service, like tire rotations, tire repair and installation, and tire up-fitting or plus sizing [changing the placard], that shop needs a TPMS Service Tool or what's commonly known as a TPMS Scan Tool [one that combines TPMS Sensor testing with OBDII programming capability]. In these types of tire service, removing and replacing the TPMS sensor is required. Every time a new sensor is installed, it needs to be programmed [or learned] to the vehicle, and often time that means a connection to the OBDII port to accomplish the programming. Typically, the TPMS Scan Tool can be used for the Test Before You Touch test, replacement sensor programming, placard adjusting, as well as the OBDII relearning. NOTE: These more advanced tools are often needed for sensor programming as well. Sensor programming is DIFFERENT than TPMS Relearns as discussed later in this article.
Replacement Sensors
TPMS replacement sensors fall into one of three categories: Direct Replacement, Multi-Protocol and Programmable. These categories are based on how the sensors are fit for use and how they operate, and whether TPMS tools are required to use them.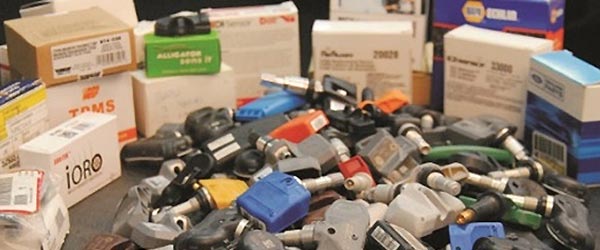 Direct replacement TPMS sensors are typically a 'PART FOR PART' fitment. One part number cross references to the OE fitted part number. These sensors can be purchased in the form of OE equivalent, factory direct or in aftermarket versions. Whenever a NEW OE part number is created an update is required the direct fit replacement fitment guide. This type of sensor, like the OE sensor, requires a TPMS tool only to complete the TPMS relearn, and not to configure, prep or program the sensor.
Mult-protocol TPMS sensors are direct replacements for the original parts, except that one sensor contains 'many protocols.' As the name suggests, one sensor has been created to 'house' multiple sensor output protocols which means a fewer part numbers cover a wide range of OE part numbers. The way theses sensor work is, with each transmission, a number of different protocols are sent out. When fitted on the proper vehicle, the correct data is received and processed. Like Direct replacement sensors, Multi-protocol sensors do not require a tool to prep for use. A TPMS tool however, is required for the relearn process. It's worth noting, when completing an OBD relearn using a multi-protocol sensor, the TPMS tool must be able to filter protocols transmitted, and identify the one for the application being worked on. New OE part numbers can either be a revision in application coverage, or sometimes a new part release is required.
Finally, there are Programmable replacement sensors. These sensors require programming before installation. Programmable sensors offer the greatest flexibility while keeping the SKU count to a minimum. NOTE: The advantage to programmable sensors is that as new protocols emerge [coverage], the sensor can be updated with the new coverage, this limits new SKU's and obsolete stock. Programming these sensors can range from a simple sensor ID copy to a complete protocol and ID setup. Programable sensors are wirelessly programmed uses a Low Frequency [LF] signal, from a TPMS Tool. Programmable sensors typically require a device or TPMS Tool to program them PRIOR to installation [use]. Because they are programmable, they tend to offer latest coverage without part number supersession.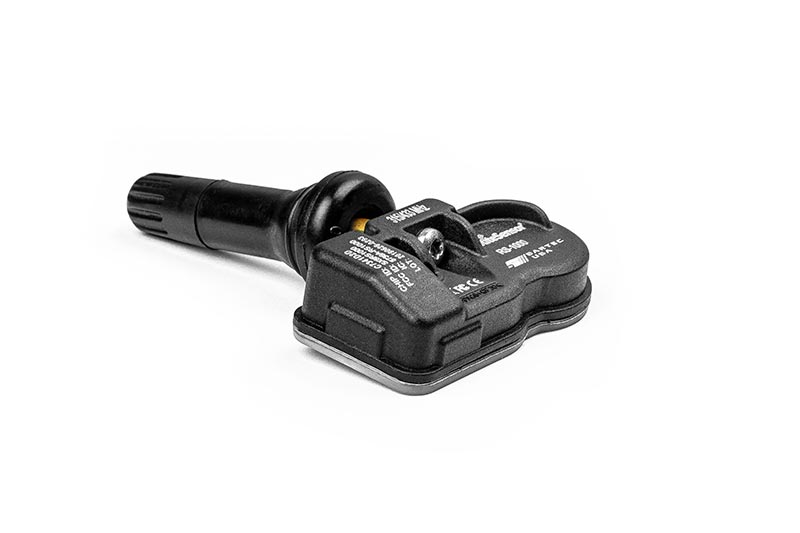 There are numerous manufacturers replacement sensors. When choosing a supplier, make sure you consider ease of use and coverage. There is new technology available that makes using programmable sensors just like using a OE direct fit. In other words, by combining sensor programming with the vehicle relearn, the process of using a programable sensor is identical to that of the OE replacement. In the end, which type of sensor you should consider will largely depend on your business and what works the best for the types of vehicles serviced. It is important to note that whichever solution is selected, using the TPMS service best practices is critical! In other words, regardless of the sensors used, Pre-inspection [test before touch], Diagnostics and the all-important TPMS relearn shouldn't be skipped.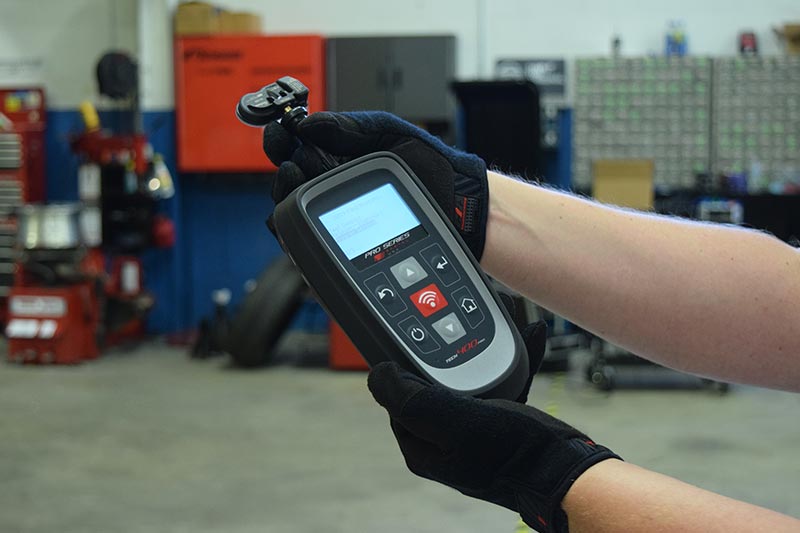 As you can see, when servicing vehicles with TPMS, there are options to consider. In many cases, the right solution is a combination of things. Activation tools for front counter inspection and TPMS Scan Tools for back shop diagnostics and repair. Which sensor you use should always be driven by quality and performance. In the world of Tire Pressure Monitoring Systems [TPMS] there is never a shortage of questions, issues or confusion. We've just passed the thirteen-year anniversary of the TPMS mandate, and consumers are keeping their cars longer, which means very soon, every vehicle that comes into the repair shop will have TPMS fitted. Will you be ready for them? Will you 'Own the Wheel Well?'
Other Articles
September 20, 2023
September 15, 2023
September 4, 2023
August 1, 2023
July 24, 2023
July 18, 2023
July 17, 2023
July 1, 2023
June 27, 2023
June 6, 2023