Bartec USA Announces the Acquisition of Larger Building!
October 28, 2021
Sterling Heights, MI – Bartec USA, the original North American leader in TPMS equipment, tools, solutions, and service, announces their expansion into a new facility! Bartec USA has experienced significant growth and as a result has outgrown their current facility located in Sterling Heights, Michigan.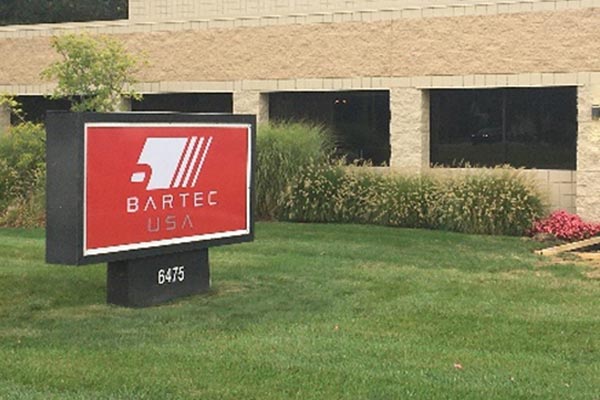 Bartec USA has called Sterling Heights their home since their beginning, in 2004. According to Bartec CEO Scot Holloway, "It was important to remain in Sterling Heights and Macomb County, as both have been excellent partners for us during our business' growth and development!" Bartec's new facility is located at 6475 19 ½ Mile Road and is just a quarter mile from their previous location. "This is an ideal area for us as many of our suppliers as well as customers, are here. The areas infrastructure suits us very well" Holloway continued.
Despite the pandemic, Bartec USA has experienced tremendous growth. What began as a product line make over in 2019, has evolved into a complete full-service line up of TPMS products which includes the popular Rite-Sensor®, a complete range of TPMS service parts, and an exciting offering of new TPMS Diagnostic and Programming Tools. "With this new growth comes the need for a lot more space and capacity" says Steve Long, Bartec USA's Director of Operations. "We have a lot more inventory now, and a larger support team than we did a year ago. We simply needed additional space to house it all, and to allow for the expected continued growth," Long continued.
At more than 18,000 square feet, Bartec USA's new facility is more than twice the size of its previous location and features state of the art amenities and offers their associates a much improved and updated workspace. According to Bartec USA, the entire 18,000 square foot operation is dedicated to the sale and support of their various range of products, which are designed for the service of Tire Pressure Monitoring Systems. In addition to greater warehouse capacity, the new facility has increased room for testing and development, a vehicle testing area that includes a lift, tire service equipment, and large on-site training space. Bartec USA will use this new space to host customer training events and to support industry efforts to improve TPMS knowledge and service.
Bartec USA's new facility also features a dedicated space for the Technical Support Team. Bartec USA is thrilled to be able to provide this new and improved work environment for who has long been regarded as the best TPMS Tech Support Team in the country. According to Technical Support Manager Michael Houghton, "We now have space to grow, additional room for our associates, and a dedicated area for training and collaboration. This is a huge upgrade from our previous location!"
For more information about Bartec USA's move, follow their social media accounts on Twitter [BartecUSA] and Youtube
Other Articles
December 6, 2023
December 4, 2023
November 1, 2023
November 1, 2023
October 31, 2023
October 31, 2023
October 27, 2023
October 25, 2023
October 23, 2023
October 5, 2023