Introducing the Tech550Pro TPMS Tool
May 1, 2022
The Tech550 is the latest evolution of TPMS tool technology from Bartec. Combining the Icon Based Menu from the Tech600Pro and the wired OBDII connection of the TechPro450, the Tech550Pro provides high powered TPMS diagnostic service while maintaining its mid-range price point.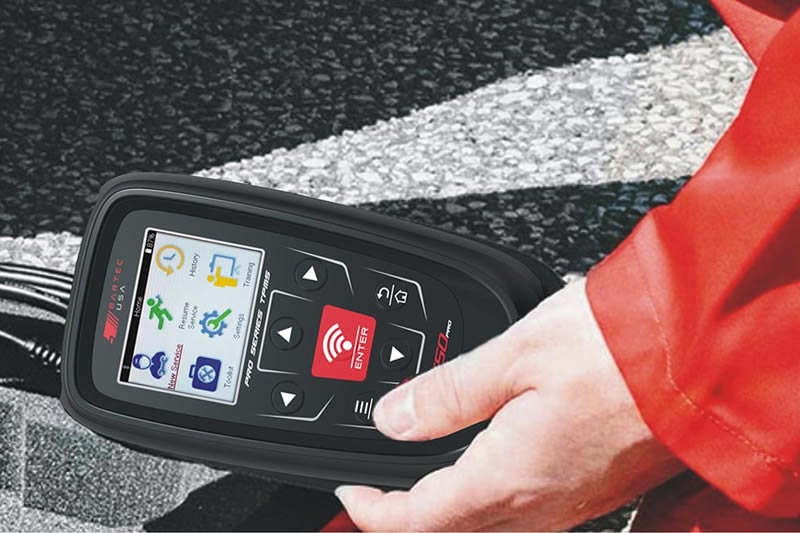 The Tech550Pro works on more cars, is faster, and offers features and benefits to make your shop more efficient. Except for the traditional OBDII cable to the vehicle, the Tech550Pro is a wireless TPMS, wireless charging, wireless data transfer [Bluetooth] and wireless updating [WiFi].
The Tech550Pro was designed so that anyone in your tire shop or repair facility can use it! TPMS is hard enough, the service tool you use should be easy and intuitive. The Tech550Pro uses the Bartec Graphical Process Menu Flow. Start with TEST BEFORE YOU TOUCH and finish with the all-important RELEARN, and you have a job done, quickly and accurately.
The Tech550Pro works on more than 95% of vehicles that REQUIRE ODB communication and is the ONLY tool that offers ODB coverage on vehicles like Chrysler, Ford, GM and Volvo. This means a single workflow and faster service, a shorter learning curve for technicians.
Tech550Pro is ideal for Tire Shops, Automotive Repair Facilities, Branded Auto Repair Companies, any automotive service company that services wheels and tires. The Tech450Pro is the tool most sought after as it has excellent TPMS capability, combined with the added punch of WiFi updating, and a range of accessories second to none.
Other Articles
September 20, 2023
September 15, 2023
September 4, 2023
August 1, 2023
July 24, 2023
July 18, 2023
July 17, 2023
July 1, 2023
June 27, 2023
June 6, 2023